The web is growing in leaps and bounds with tons of websites appearing daily. Every entrepreneur understands the importance of building a powerful online presence focusing on a corporate site. You will wonder how possible it is to get an affordable, exceptional, fully-fledged website running in a short period of time without effort and coding knowledge. The secret is in HTML website templates.
TemplateMonster marketplace is one of the best places for all possible web design needs. The company boasts a huge collection of HTML5 themes. There are tens, hundreds and even thousands of premium HTML website templates produced by professional web developers and designers. Most of the templates are loaded with the impeccable page builders that allow you to create solid web pages without additional costs.
For three days only, from April, 9, to April, 11, all website template can be applied to the 35% discount. If the average price of HTML theme is $75, you can save more than $25 on every purchase. There are designs suited for all purposes imaginable in the TM marketplace. Grab the deal and start building your online presence right now!
Benefits of Using the HTML Website Template
When it comes to launching a personal blog or business website, most business owners and developers prefer the use of templates. Here are the undeniable benefits of using ready-made themes for your website:
HTML website templates are cost-effective. Their affordable cost is the main advantage of using a web template because each and every business owner strives to save as much money as possible. Additionally, using the premium theme is a great solution for those who are on a tight budget. They achieve a really professional looking platform for building a feature-rich website.
It's a time-saving solution. Most startups do not start developing their presence on the web because it seems a really time-consuming and costly venture. Yes, it can cause a number of inconveniences, but only if you fall on from scratch. However, you can just spend a day or two on building a site using the premium template.
There are tons of design for all occasions. The rich collection of HTML templates will satisfy even the most sophisticated customer because they are available in any color, style, font, level of simplicity, etc.
Having bought the HTML template from TM, you achieve life-term efficient support 24/7.
The products are SEO-friendly. It's essential for any website owner to optimize a site for Google and other search engines to generate traffic.
You won't have to worry about updates since you can do it anytime you want. It's easy to upload any type of content because you can also add a CMS platform to the static site.
With the ready-to-go website template you can design easy and quick without needing professional help.
To find the best HTML website template, you need to take a look at this collection of new templates.
Cost – Accountant Multipage HTML5 Website Template
Cost is an amazing HTML accountant website template with great features and unlimited options. Out of the box, the template treats you with a demo for a quick launch of your project. Due to Bootstrap framework, Cost is fully responsive and mobile-ready. Along with over 40 ready-made HTML5 pages, the template also has multiple gallery types, cool CSS3 animation effects and tons of web fonts.
Cabsgo Responsive HTML Website Template
CabsGo is a very neat template with a focus on taxi services. The template is mobile-friendly and Retina-ready what makes it perfect for all the new-tech web browsers. It features a prototypical structure, a set of basic page layouts including blog and Contact, and the handy Booking form. The template comes with more than 10 carefully designed pages for all occasions.
Yoda Clothes – HTML Website Template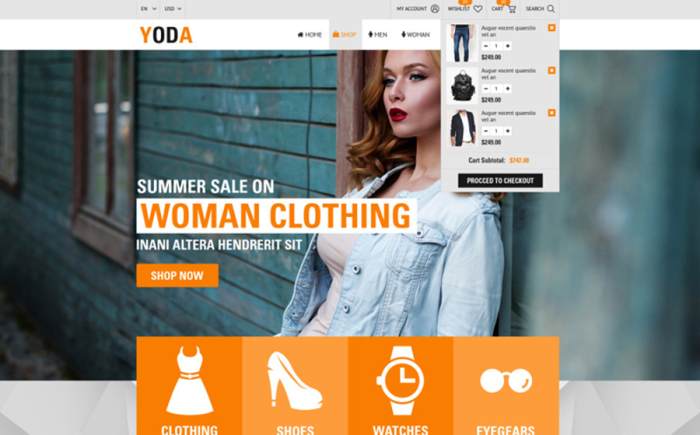 Yoda Clothes is an elegant and polished looking, tech-savvy and fully responsive website template that can serve a perfect web solution for any fashion business. This e-commerce template is stuffed with numerous features and options needed to set up an efficient e-store. In addition to minimalistic yet impressive design, you achieve effective Megamenu, functional header, social media integration and multiple usable widgets to enhance your website look and performance.
Positive – Advertising Agency Multipage HTML5 Website Template
Positive will really impact positively on your audience. The template boasts trustworthy and truly remarkable design, advanced functionality and multiple page layouts. With a huge set of UI elements, it is possible to develop a powerful corporate website that will generate huge traffic. Thanks to the Bootstrap framework built-in, you will achieve a comprehensive toolkit to work with.
Mega Construct – Construction Company Multipage HTML5 Website Template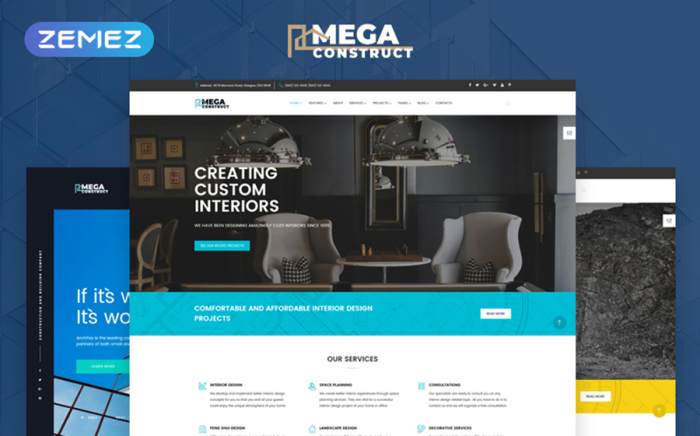 Mega Construct is an awesome multipage HTML5 website template developed especially for a construction company. It is empowered with unlimited features and options to make your online project successful. The template comes with several home page layouts, different header and footer styles, 6 amazing blog variants and tons of editable components to enrich your site functionality. With cool CSS3 animation effects, your website will grab more audience and make your clients return again and again.
Forbes – Multipurpose HTML5 Website Template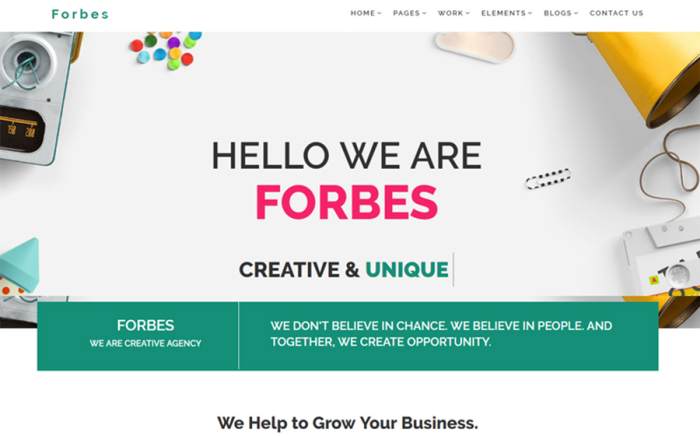 Forbes is carefully designed for ambitious people. This multipurpose website template is powered by the latest HTML5 and CSS3 technologies. Its minimalistic yet stylish design will help your business to stand out from the crowd while extensive functionality will make your site users experience more engaging and unforgettable. Forbes boasts its solid framework, which is favorable for building an outstanding online presence.
Crayon – Creative Portfolio Website Template
Crayon is a bright, reliable, creative and impeccable website template based on the latest web design technologies. It is a well-crafted, smart and very flexible website template that you can use for building any portfolio. The template includes hundreds of web fonts, numerous color options, tons of custom widgets, social media integration and loads of usable components for providing efficient user experience on your site.
Avenue – Restaurant Responsive Multipage HTML Website Template
Avenue boasts stylish design and impeccable functionality. The template is stuffed with loads of UI elements and blocks and more than 50 ready-made HTML5 pages that allow you to enrich your digital restaurant business. Thanks to W3C, well-commented and SEO-friendly code, the template is easy to install, customize and personalize in accordance to your needs without efforts. The responsive and retina ready design allows your website to flow freely on all the devices.
PIX – Creative Photography Portfolio Website Template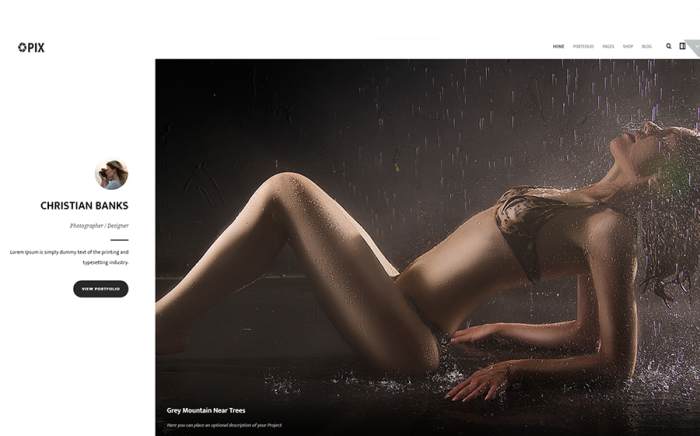 PIX is incredibly creative yet smoothly functional website template powered by HTML5 and CSS3 technologies. This theme includes hundreds of Google fonts, multiple color options, usable custom widgets, unique pages and much more. With a unique grid blog style, you can launch an efficient blog page with regularly updated content that will positively impact on your search engine ranking.
Autozone – Auto Dealer Bootstrap HTML5 Website Template
Autozone is a stylish Bootstrap-powered website template with all the necessary tools and options to build an effective auto dealer service on the web. The theme also supports high-resolution Retina displays, allowing you to enjoy crisp graphics and sharp text. Your visitors will be impressed by an illusion of depth in 2D environments of your website due to the Parallax animation implemented. The template's code id SEO-optimized that will help you with internet marketing.
With these top premium HTML website templates, you can forget about the painful process of writing code and developing a website from scratch. What you need is to focus on your business or art and implement it into an efficient digital platform. Whatever your plans for using an HTML template, please check every demo prior to buying it. Grab the deal and start creating an effective online presence right now.