Genuine smiles and glaring eyes, pure nature and wonderful landscapes – all of these things and plenty of others can turn out to be even more eye-catching with the help of photography. It has its own incredible powers – to save the moment that will be gone in a few moments. A shining morning dew, soft snowflakes or even warm embraces. Sometimes you may want the whole world to see your pictures and make them happy as you were while shooting them. For this reason, we thought that you would need some help from TemplateMonster. Our team has created a stunning selection of the creative portfolio HTML5 templates for photographers that will showcase your photos in the best possible light. All of them are considered to be a fusion of various visual and functional tricks that will turn your website into the most feature-rich and good-looking one. Believe us, there won't be even one person who will click off your online-project. People will adore your portfolio and, in such a way, they will fall in love with your images.
What Should a Stunning HTML5 Theme for Photographers Include
of course, you should get in touch with your viewers in order to find out more about their opinions on your photography – a fully-functional contact form will make it possible without any troubles;
by means of diverse homepage layouts, color schemes, and fonts, you will be able to find something that fits your brand perfectly;
a wide variety of gallery variations will make it possible to display your images in an out-of-the-ordinary way and, without a doubt, capture everyone's attention.
Capture the moment of your success together with these marvelous templates! Don't miss your chance to become one of the most well-known and talented photographers on the Internet by means of this collection of HTML5 templates. For this reason, let's find something incredible for your purpose here and now…
Photo Studio – Remarkable HTML5 Theme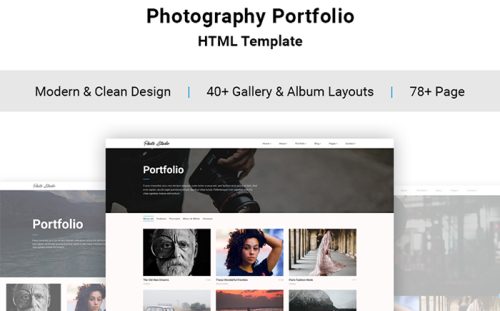 An outstanding template that will allow your magnificent portfolio to distinguish itself from the crowd. By means of seven homepage variations, diverse galleries, and stunning albums, you will be ready to create a tailor-made appearance of your website. Thus, your message will certainly hit the target. In addition to this, a wonderful background video and eye-catching animation effects will make people pay more attention to your online-project.
Monstroid2 – Extraordinary HTML5 Theme
Monstroid2 is a stunning theme that comes alongside with a huge pack of functional and visual capabilities that will impress your imagination. With the help of the enormous collection of HTML templates and demos included in nine attention-getting skins. Furthermore, a gorgeous Parallax Effect will even flabbergast your visitors and make them be even more interested in your high-professional photography works.
Jasmin Morriss – Vibrant HTML5 Theme
A bright solution that will amaze everyone with its rich colors, exceptional design, and distinctive options. Your target audience will not be able to take their eyes off your works if you showcase them using a wonderful Portfolio feature. Moreover, you can modify the look of your online-project with the help of the pack that consists of elegant Google Web Fonts.
Kelissa Smith – Unusual HTML5 Theme
A fabulous template designed for those people who want to present a bunch of creative ideas not only in photos but in their online-presentation. A feature-rich drag-and-drop builder will assist you in working with your content and tinkering with its positioning. In order to let your curious readers find out more about your work, this template includes a fully-functional contact form.
Intense – Excellent HTML5 Theme
This template definitely has the vibe of the powerful theme that will make everyone be amazed at its potential. A vast number of header and footer styles, multiple portfolio, and blog templates, fully-fledged elements – all of these features will allow you to build a sensational website. In addition to this, you can make your online-project look even more by making use of hover effects, sticky menus, and unlimited color options.
Kanter – Wonderful HTML5 Theme
A stylish theme that includes an enormous pack of various useful features made exactly for making your photography portfolio decidedly better. You can choose a perfect fit for presenting your excellent works on the web among 57 pre-made pages, 12 page styles and 11 color schemes. Furthermore, you will also get an attention-grabbing filterable portfolio that will definitely make your photos shine.
Susan Parker – Intriguing HTML5 Theme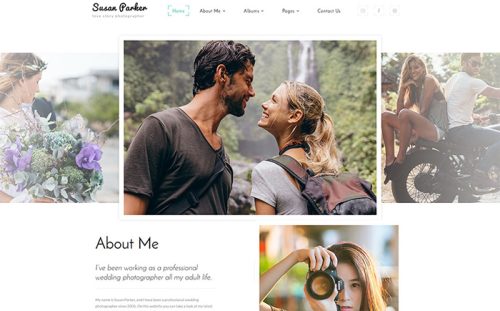 If you're searching for a grand template that blends a tender design, soft hues, and well-balanced content positioning, you shouldn't pass by this ultimate solution. A great number of pre-made HTML pages will certainly bring out lots of emotion and allow you to impress your readers with them. Moreover, such gallery types as cobbles, masonry, and grid will display your photography masterpieces in an out-of-the-ordinary way.
Photographer – Stunning HTML5 Theme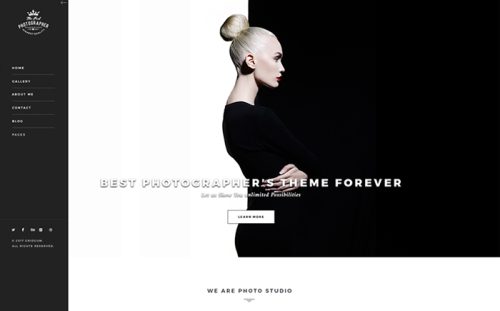 In order to make people be delighted with your photography masterworks, you should definitely think over their online-presentation. This exquisite template will provide you with a huge number of gallery types that will certainly make your viewers be impressed with your pictures. In addition to this, multiple effects and animations will only make it even more elegant and striking.
Fiona – Gorgeous HTML5 Theme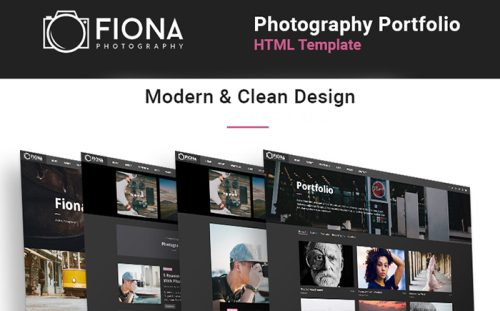 Fiona is a magical theme that was designed exactly for making your images one of the most popular on the Internet. Together with this stunning variant, you will get over 75 ready-made HTML pages that look extremely modern and eye-catching. Moreover, a wide variety of fully-fledged forms will make people sit up and take notice of your website.
Laterna – Fantastic HTML5 Theme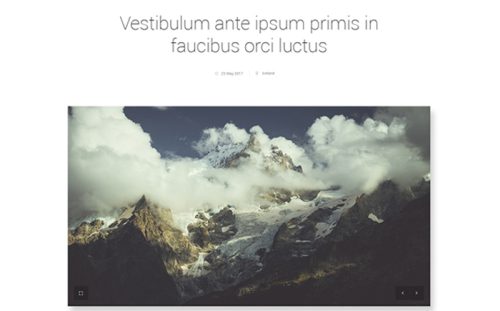 A distinctive solution that was created taking into consideration the latest web-design tendencies. In order to allow you represent your own photography style by means of design, this wonderful template comes pre-loaded with a couple variations of the gallery. Furthermore, you can also choose the most suitable color scheme that will highlight your creativity.
Touch Photo – Incredible HTML5 Theme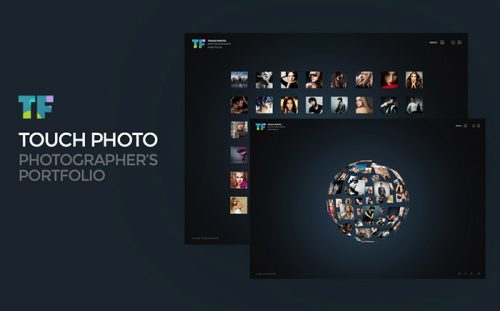 Do you adore eye-catching designs made in dark colors that always look modern and elegant? With the help of the full-width image slider, your images will sparkle and make everyone fall in love with your talent. In addition to this, you will be ready to make your website more recognizable by means of diverse Google Fonts.
Siena – Magnificent HTML5 Theme
Siena is a minimalist template that will deliver the main message of your online-portfolio without no hassle. A wide variety of homepage styles and portfolio variations will impress your visitors with their extra-ordinance and brightness. Furthermore, you can take the full control of the color scheme and play around with the appearance of your website using video backgrounds.
John Doe – Minimalist HTML5 Theme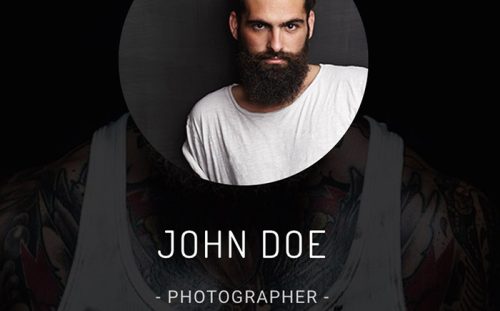 A well-favored and professional template that will certainly make your experience and works look more stunning and attention-grabbing. It comes together with a bunch of robust features like a fully-functional skill-bar, wonderful portfolio option, and tailor-made layouts. Moreover, you will be also impressed with a content positioning that won't allow people to pass by your works.
Indigo – Admirable HTML5 Theme
Indigo is an incredible theme that looks like one of the most lovable variants to create a feature-rich photographer portfolio. By means of four homepage layouts, you will get the opportunity to showcase your content in a tailor-made way. In order to let you display your photos and make them look even more exquisite, this template comes equipped with 15 gallery types. Moreover, you can also make use of the fully-fledged Instagram gallery and promote your profile, too.
Focus – Impactful HTML5 Theme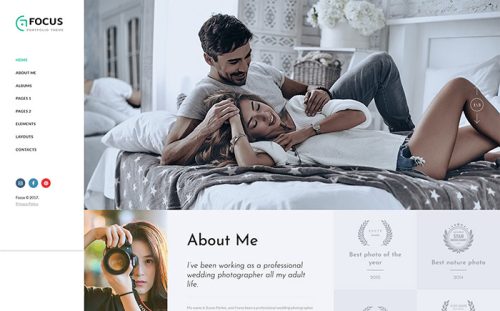 A high-rate template that will bring your excellent pictures into everyone's focus without any troubles. Together with this convincing theme, you will get diverse HTML pages that you can add multiple elements (like buttons, bars or forms) extremely easily. Furthermore, your customers can reserve a meeting with your directly on the website and discuss all questions vis-a-vis.
Family Photographer – Stylish HTML5 Theme
A modern template that will assist you in bringing your talented works into the notice of various photography fans. With the help of 12 homepage layouts, portfolio variations, and gallery types, you will be able to build a website that looks like a unique one. Moreover, you can easily add your Instagram Feed to your pages and make people be impressed with your photos posted on this social network.
Jonathan Abraham – Amiable HTML5 Theme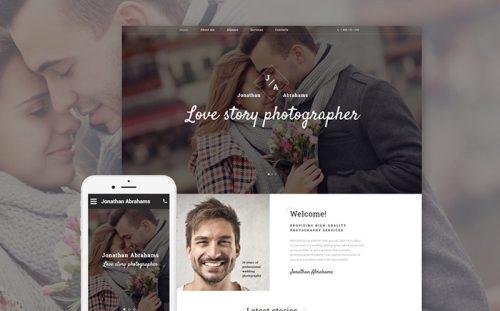 A wonderful theme designed in the palette of soft colors that will make your online-project even more attractive for your core audience. By means of the card-based gallery, your photos will turn out to be striking and attention-getting. Meanwhile, a stunning stick-to-top menu won't allow people to get lost and will guide them through your portfolio while they're scrolling your pages.
Rombic – Modern HTML5 Theme
If you consider yourself to be an admirer of geometric shapes and vibrant colors that create a rich design, you should probably catch this modern-day template here and now. With the help of such options as flexible ghost buttons and engaging Parallax Effect, you will be able to catch everyone's attention at the first glance. A stunning gallery feature will make your pictures look extremely professional and remarkable.
Nature – Soft HTML5 Theme
A tender template that looks like the most elegant fit to create a website presenting your nature images. Using a remarkable Twitter Feed, your viewers will be able to share your pictures on their social profiles. In addition to this, you can also use a fully-featured online-chat that will make it possible to get in touch with your core audience instantly.
PhotoRX – Exquisite HTML5 Theme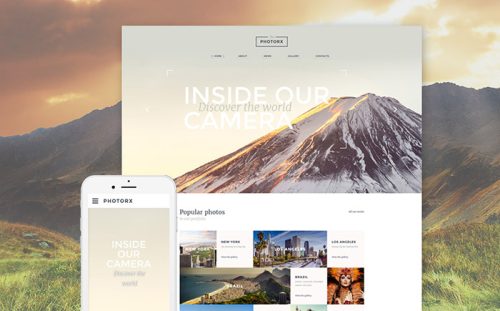 Have you ever dreamt of the gorgeous design that comes together with low-key hues, elegant typography, and outstanding functional tricks? A great Slider will provide you with various ways of presenting your content, while amazing font icons catches the eye of every user. Moreover, a powerful contact form will allow your customers to leave some feedback on your photography works.
Make a real masterpiece out of your photography website with the help of these magnificent themes. Inspire others to take photos and show their flair for photography. We wish you good luck with your works and thanks for reading!