Are you planning a new start-up and wondering which is the right WordPress hosting for your project? Perhaps you already have a physical business, and you want to expand into the online market with a WordPress site? Or maybe you're planning to start a blog? If so, you'll need to choose the right WordPress host for your site.
There are many different choices when it comes to WordPress hosting. This article will look at some of the best WordPress hosting services and will help you decide which is right for your business or blog.
What is WordPress Hosting?
WordPress hosting is often overlooked by businesses and individuals who are so engrossed in making a website or starting a business that they don't stop and consider the best host. Finding the right website hosting company will determine how successful your website ultimately becomes.
Choosing the right WordPress hosting will allow you to improve your sights search engine optimization (SEO). This will lead to increased traffic to your site and hopefully, a higher number of sales.
There are many different types of web hosting for WordPress available with plans ranging from shared hosting to VPS and even managed WordPress hosting. Some WordPress hosting services are free, but these are likely to offer you limited options and are probably best avoided, especially if you're taking your site seriously. Let's look at some of the best WordPress hosting for your blog or business website.
Hostinger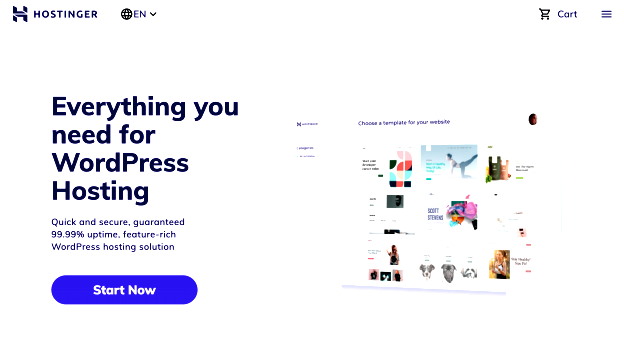 This company provides great web hosting for WordPress with pretty much everything you need included in their package. From a 1-click installer to get you up and running ASAP, to advanced security and server features to protect and maximize site performance.
This hosting provider is known for its affordability and reliability, successfully lowering the barrier for entry for webmasters from all over the world. Hostinger also offers managed and regular WordPress hosting equips their servers with must-have features like LiteSpeed server technology and advanced caching systems.
Additionally, you'll have the ability to use pre-built themes and plugins that come with the hosting provider.
Hostinger's servers are well known for their reliability and promise a 99.9% uptime guarantee. In the event of a crash, or when needing general help, you'll be able to use their 24/7/365 customer support live chat that promises a response time under 2 minutes.
Additionally, if you're starting fresh, you can opt for a 12-month plan and get both a free SSL and domain name for your site to save on startup costs. Alongside that, you'll have access to their tutorial section which has thousands of articles on WordPress related topics.
Bluehost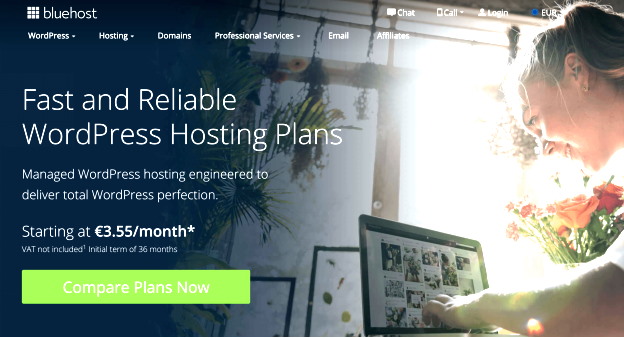 Bluehost was one of the first-ever web hosts, the company was started in 1996, and it has continued to increase in popularity ever since. Bluehost is one of the world's largest brand names and is the hosting service that WordPress recommends.
If you choose Bluehost for your WordPress hosting, you'll never have to worry that your website may be running slowly. Bluehost keeps sights running efficiently, even if there's a lot of traffic to your site.
The company also offers 24/7 support and can answer any questions you may have knowledgeably and professionally. They are happy to help you by either phone, email, or live chat.
Bluehost has been voted the number one web hosting for small businesses. You'll often find that there are special offers available with Bluehost if you shop around. They usually offer users a Free Domain and Free SSL. There's also a free website builder with a selection of attractive templates.
SiteGround
SiteGround is another very popular and highly rated hosting provider. It's great for WordPress users as they provide speed and security solutions to make WordPress sites faster. They will make your blog or website as fast and secure as possible.
SiteGround is well known for having great 24/7 customer support and can be easily and quickly contacted if you have any problems. They are another one of the hosting providers that WordPress recommends.
SiteGround offers users automatic updates, built-in WP caching, one-click staging, CDN, and GIT version control. The company has location-specific hosting and is one of the few hosting services that offer this. They have six data centers across the world in America, Europe, Asia, and Australia.
HostGator

HostGator is a very popular hosting platform with over 8 million users, making it one of the best web hosts in the industry.
HostGator is very easy to use and set up; it has a 1-click WordPress installation and a 99.9% uptime guarantee. The company also offers fantastic 24/7 customer support, making it an excellent choice for every website or blog owner.
DreamHost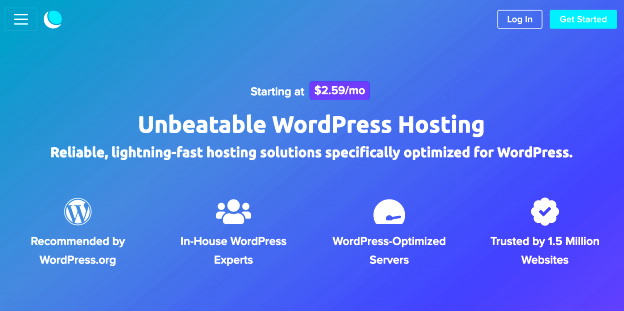 DreamHost is a long-established web hosting company which have been around for eighteen years. They pride themselves on their ability to make web hosting easy.
With DreamHost, you'll get a custom dashboard and easy to set up 1-click WordPress install. They also provide automatic WordPress updates as well as unlimited space and bandwidth.
With DreamHost, your business can enjoy free SSDs, which will mean that your website is around 200% faster. DreamHost is currently being used on over 600,000 WordPress sites and blogs. They also offer great value for money as there are no initial setup fees, and you'll get a free domain name.
GreenGeeks

GreenGeeks is a relative newcomer to WordPress hosting and is top of the industry with its high-speed and efficient website performance. They are very popular across the USA and offer American customers 24/7 customer support.
As the name suggests, they are an environmentally responsible platform, so if you're into saving the world, or at least making it a better place, GreenGeeks is right for you.
With GreenGeeks, you can take advantage of the automatic 1-click WordPress installation. There are also regular managed updates, and your site will benefit from enhanced security protection. GreenGeeks offer free CDN and free site migration. There's also a choice of five different data center locations.
GreenGeeks is widely used across America, and the company currently powers over 500,000 websites.
Which WordPress Hosting is the Best?
Sadly, there is no single "one-size-fits-all" solution for WordPress hosting. That's exactly why we took the best WordPress hosting providers for this overview. Be sure to carefully inspect all of their features, reputation, and pricing to make the best decision for your new WordPress website.
Conclusion
As you can see, there is a wide selection of web hosting available, and you'd be forgiven for being confused about which one to choose. At first glance, all these companies seem to offer very similar services.
It's essential to do your research and see which hosting offers the services your companies are looking for while also providing great value for money.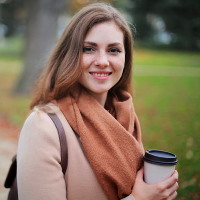 Article by Mary