We are living in a world of SEO (Search Engine optimization) where every person has their own plan of action and rules to apply on the website to gain traffic. One of the provisions of SEO is 'No follow links' that have their own worth. Usually, they were originated to prevent people from doing Black Hat SEO by Google. However, not every person acknowledges the importance of nofollow links.

No follow links are termed as Hyperlinks referred to as rel="no follow" tag. It is said that these links don't affect Google's ranking, which is why people consider it worthless.
Now the question arises that do these links hold any value? If you are one of those who find them useless, then this article is here to explain to you the importance of nofollow links and how they give you benefit in ranking your site.
What Are No Follow Links?
According to Google you need to tell search engines your site's relationship with the linked pages. They need to know whether they are sponsored, user-generated or you just simply don't want your site to be associated with the linked website. Outbound links can be marked with the following rel attributes for SEO purpuses to prevent them being followed: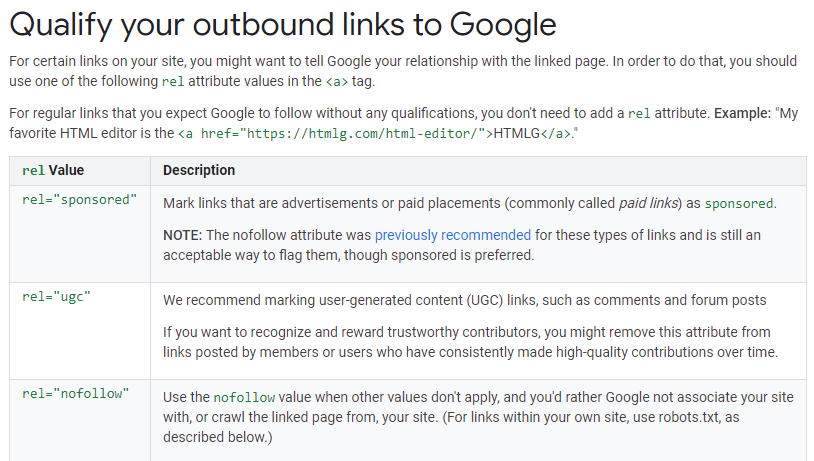 ugc – abbreviation for "user-generated content" means that the link has been added by your site's visitors. This attribute can be added automatically in a comment sections or on public forums when the website owner doesn't want to take responsibility for the outbound links created by their visitors.
sponsored – advertisements or other paid links and banners.
nofollow – use when you don't want your site to be associated with the destination.
WARNING! "Bad" outbound links can harm your site!
From an SEO perspective if an article links to reputable sites like Wikipedia or other known sites that signals search engines that the article is valuable. Linking to irrelevant or "bad" sites (porn, gambling) can harm your own ranking. This is why it's important to use the correct rel attributes.

You don't want to find this in your mailbox: A website was completely removed from the search index for unnatural link building.
Bad inbound links are also harmful!
While building links to your new site you should check the site where you put your site's link. Make sure you're not just collecting dofollow links on irrelevant sites! However, many people apply the links without even giving it a second thought, which completely ruins their site's image and decreases the number of visitors.
I would recommend you to always prefer quality over quantity whenever you do link building.
Protect yourself from bad inbound links
You can go to Fiverr and buy 1000 backlinks to a site for $5. If you expect this to boost your ranking then I have bad news for you. This will have a negative effect on you.
Some publishers even use "bad" link building to harm their competitor.
Google offers a solution protect yourself from harmful inbound links. You can ask Google to ignore them disavowing them in Webmaster tools search console.
Make sure to keep an eye on your link profile and immediately report to Google that you might have been the target of such an activity.
Always try to look natural
Google and other search engines expect you to avoid any form of link building but let's be honest – This is not doable. Your new site will never grow if you don't link to it anywhere. You need to do it but if you do then try to do it to look natural to avoid harming your rankings or even a manual penalty.

Normally it takes years to get natural links and to rank
1. Linear growth
Try to build you links in a slow linear pace. Don't get too many links at once and then wait too long when you SEO budget runs out. Unnatural and artificial growth can be easily spotted:
2. 12% nofollow
12% of all links on the internet are Nofollow. If you buy only "Dofollow" links that will warn Google that something shady is going on and it can punish your website for unnatural link building. Even if you're buying links make sure that at least 10% of them are marked nofollow to avoid suspicion.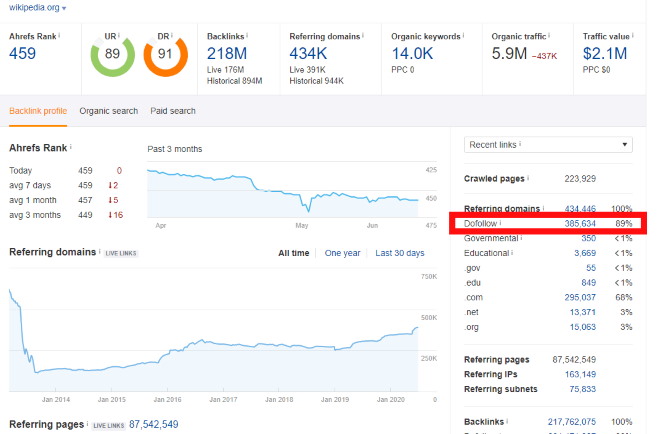 Importance of No Follow Links
No follow links have been emerged by Google a long time ago. There was a time when link building was all about implying more and more links to gain the traffic. Nowadays, link building is all about quality.
Let's proceed with the article and talk about those essential points which make No follow links worth using and worth applying. Those critical points incorporate:
1. Don't worry about broken links
Links constantly change on the Internet and sometimes links are not properly 301 redirected to their new destination. Normally you should always scan your site for broken links but if you use nofollow links then you don't have to worry about dead links.
2. They are Natural
When you amplify a bunch of dofollow and No follow links on your website, it will be perceived as a Natural site by the visitors, which will help you increase traffic. It is quite suspicious for google when you fill your entire website with do-follow links. To make your website look natural, go with the combination of do-follow, and no-follow links, which will likewise have a positive impact on your website.
3. Increase Traffic and Exposure
A No follow link might not get you direct traffic, yet it can contribute a lot in enhancing your page view in different ways. By putting your site's link on some notable websites can improve your traffic to a great extent. For instance, if you put your link in the top news channels website, then maximum people can reach your site by clicking that no follow link.
It is how it may help you in gaining a maximum number of visitors. This is a world of social media where millions of people use it for various purposes. When you start putting your site's link on Facebook, Reddit, and Twitter, millions of people will get to know about your site just by clicking that link. Make sure not to compromise on the quality at the time of putting backlinks.
4. It Extends Dofollow Links
Many people might not be aware of this fact that No follow links assist in extending dofollow links. When you put No follow links on various exceptional and leading websites where traffic is 100%, then many people will get to know about your site. They will surely apply dofollow links, and it is how you can reach maximum Do follow links organically. When more and more people put their links to your site, it would help you gain traffic to a great extent. It is another crucial factor that depicts what value these links hold.
5. Organic Traffic
As I mentioned above that No follow links were originated to eliminate Black hat SEO. The links that you get from social media are 100% organic, which means that back linking will not harm your website. Usually, the backlinks play a vital role in ruining your site's image when they are broken and unnatural. The No follow links give exposure to people about your website after they wish to create dofollow links on your website, which are 100% organic. It is how it brings organic traffic to your site, which is good for SEO.
6. Nofollow Links Tell Google That You Are Trying To Play Fair
Artilces that contain only nofollow links (like this one) suggest to search engines that they are not written only to boost some other site's rankings. This will have a positive result on the long term.
No follow Links Aren't Worthless
If you are a professional SEO expert, then you will surely claim about the importance of No Follow links and how they give you maximum advantage. The debate on the importance of No Follow links is not new as many people agree on its importance, while a few totally deny it.
The strategies that you apply for SEO varies from person to person. Many people consider a particular strategy useless, while for another person, that strategy would be the most significant one. The fact is that when you put the right No follow link at the right time for the right person, then that link can give you a huge benefit even more than dofollow link.
Back linking is all about keeping a balance among No follow links and dofollow links. When you put an excessive amount of links on your website, it will have a negative impact, and Google will surely take some action. To become an expert in SEO, one should learn the actual meaning of Back linking. Cut the story short, No follow links are not at all worthless, and they should be given equal concentration as we offer to dofollow links.
Final Thoughts
SEO has gained immense popularity over the last few years, and so does its rules and strategies. If you are familiar with all the facts, you will surely be on the right path. I have mentioned one of the essential strategies of SEO that is link building. If you are skipping No follow links by considering them useless, then you are wrong.
Check the source code of this article to see that all outbound links are marked nofollow. I do believe that using nofollow links is a good thing.
I hope this article will make you agree on the importance of these links and what they offer to you if applied appropriately. I am sure you will find this article helpful and informative. Always play fair and wait for the results.