In this article I want to present a funny website which can be used to trick your geeky classmates or colleagues. Pranx.com is an online Windows XP desktop simulator with funny built-in features which will confuse the one you're joking. The perfect prank, not only on April Fools' day.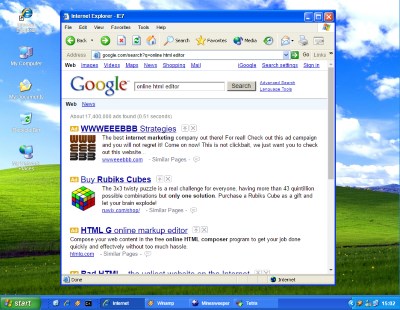 All you have to do is open this website on his computer while he's not aware, activate full screen (usually the F11 key for Windows browsers) and wait for him to return and watch his reaction.
You can interact with the Start menu, open programs, games, the infamous Internet Explorer 7 etc. There are a few icons that trigger a blue death screen once clicked. Of course, this is just a fake BSOD error, your computer is not being harmed. Next comes a fake system restart which is unable to find any boot device and fakes a C: drive format.
Play with the classic Tetris game, challenge your intelligence with Minesweeper, listen to music with the online Winamp simulator or browse the web with IE7. The Google search results return ads only, but you can open any websites that support this old web browser.
The fake Windows XP theme is not the only feature of the website. There are fake upgrade screens for various operating systems: Windows XP, 7, 10 and iOS. The victim of your prank will stand wondering when will the upgrade complete: Never!
The DOS simulator is faking a disk cleanup, regardless of the command the visitor gives.
A fake Bios is also available to trick your friends which can confuse the ones that are not familiar with the CMOS setup utility.
The blue screen of Norton Commander is only familiar to the older generations who used this discontinued file manager in the '90s, but it sure will be a nice feeling to evoke its blue screen.