Picking the perfect emoji has never been easier. With the new ideogram and smiley directory you can find the best suiting emoji for your electronic messages in seconds. They are special characters which means that they can be copy-pasted into the web browser as plain text.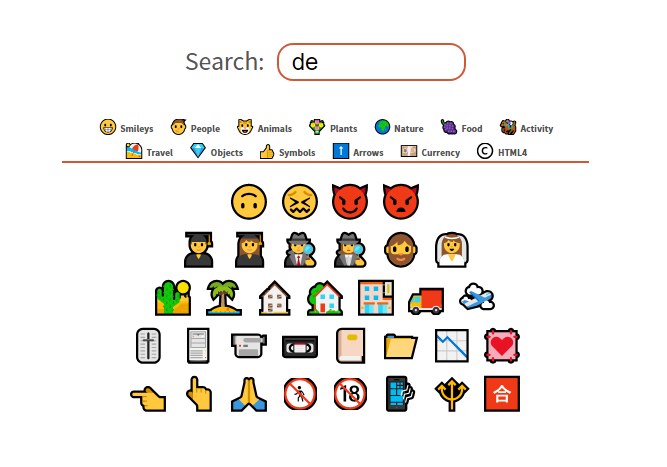 You don't need to highlight the selected character and copy it (CTRL+C) because the program does that with a single click. Just click or tap the icon to copy it to the clipboard.
Start typing in the search box to narrow down your list. Entering more and more characters in the input field you can reduce the amount of listed items until you find the best pick you're looking for.
The easiest way of reviewing the available characters is to search by category:
😀 Smileys
👦 People
😺 Animals
💐 Plants
🌍 Nature
🍇 Food
🏇 Activity
🌆 Travel
💎 Objects
👍 Symbols
⬆ Arrows
💴 Currency
© HTML4
Emojis are ideograms and smileys used in electronic messages and web pages. These predefined characters are easier to handle than web images because they can be copied as text.
The most common genres are the smileys (facial expressions), common objects, places and types of weather, and animals. They are much like emoticons, but emoji are actual pictures instead of typographics. Originally meaning pictograph, the word emoji comes from the Japanese e (絵, "picture") + moji (文字, "character"). The resemblance to the English words emotion and emoticon is purely coincidental.
Originating on Japanese mobile phones in 1999, emoji have become increasingly popular worldwide in the 2010s after being added to several mobile operating systems. They are now considered to be a large part of popular culture in the west. In 2015, Oxford Dictionaries named the Face with Tears of Joy 😂 emoji the Word of the Year.
Browser compatibility
Emojis become more and more popular and supported by all major browsers. This is the reason why they are widely used on websites to replace small images or icons. The browser doesn't have to download an image, this way you can improve website speed.
The only downside is that these icons might render differently on various web browser. To avoid missing characters it's recommended to use the following CSS declaration for these special characters:
font-family: apple color emoji,segoe ui emoji,notocoloremoji,segoe ui symbol,android emoji,emojisymbols,emojione mozilla;