PayPal the most popular online payment system, and it integrates well with many other software. It has a lot of users, but it is as hated as it is loved. The two sides are divided heavily, and both haters and lovers of this organization are not scared of speaking their minds.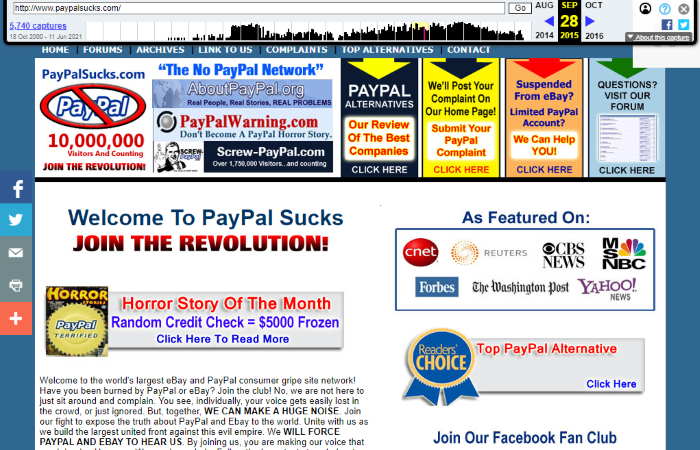 After a long legal battle with paypal PayPalSucks.com has suddenly disappeared in 2020 without any notice and it's only available on the WayBackMachine.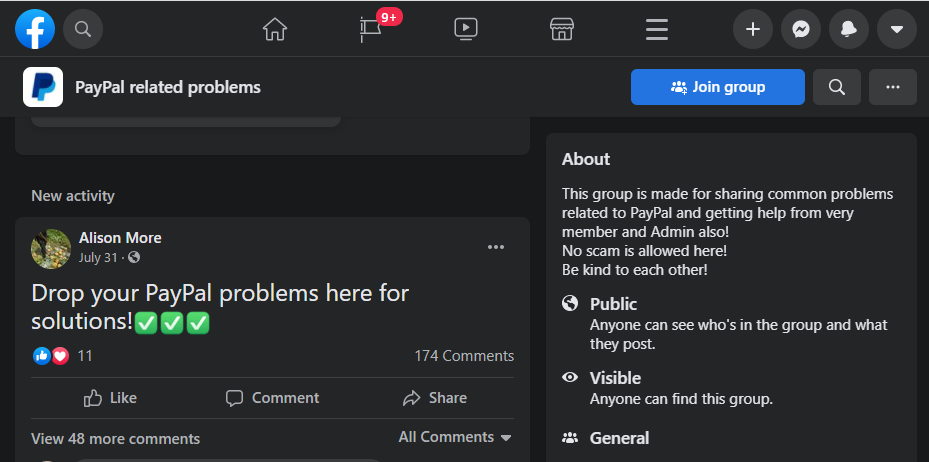 The "NoPayPal" Facebook group has been taken over and renamed to "PayPal related problems".
According to PayPal lovers, the Working Capital option is one of the best features of this online platform. This feature allows users to apply in seconds and get instant approval without credit checks. The decision is based on cash flow through PayPal. So, users may wait for a while before considering a loan, and they will be informed. You don't even need to make payments either. A small portion of your daily sales is deducted. You decide the percentage, and it can be so minute that you don't even notice it. Also, a one-time fee is charged for the loan. It is paid upfront, and it is very low. Even when you miss a day of cash flow, or a few days and weeks, you are not going to get hounded about. This makes it an ideal funding option.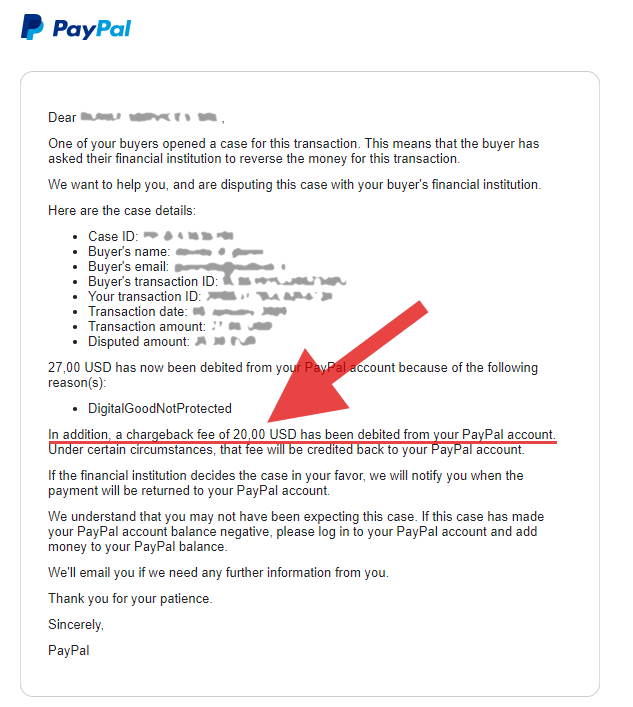 Whenever a buyer asks for a refund saying they didn't autohrise a transaction the seller is charged an extra $20 chargeback fee.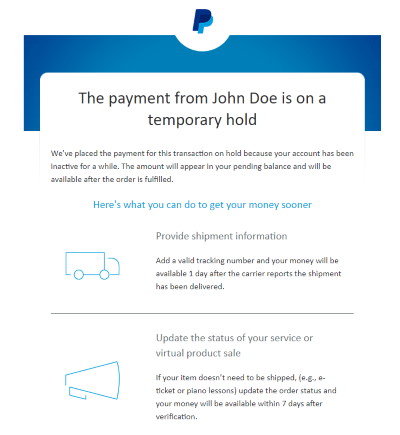 PayPal might put a hold on any transaction.
From all of these, it looks like there's a lot to like about PayPal. Well, not many people would agree with that. There are several types of complaints that people have made about PayPal. And for every good thing that a PayPal lover says, there is someone else somewhere ready and willing to prove how bad PayPal is. Some of the things that people complain about are their policies and how discouraging it is to create your initial account because of how cumbersome it is. Many people also believe that they handle claims in a feisty manner, and they have some weird policies that aim to "protect both parties."
Also, another thing that users find frustrating about PayPal is that they do not realize that they have to set up a credit or bank account to draw from when they don't have PayPal funds available. This leads to a lot of confusion about subscriptions, and it becomes more aloof when PayPal declines a charge because the credit card linked to the PayPal account has expired. It is one of those minor problems, but all they need to do is log in to the account and solve the problem.
I wish I could say this is all the complaints users have about PayPal, but that's not the case, unfortunately. Instead, several bad reviews littered around the internet, review websites, online forums and groups, and websites specifically created to discuss how bad PayPal is for businesses and individuals.
According to an individual on an anti-PayPal website, they were forced to pay $2800 for a $1400 product on eBay (that's twice the products' price), and they did not get their money refunded. The user had ordered a product through regular PayPal linked to their debit card. Even though they noticed almost immediately, they could not change their payment method any longer on eBay. So they contacted the seller to cancel the order and refund the money, which the person did, and they reordered using PayPal credit. They got the product, and everything was fine, until two weeks later, when Wells Fargo sent them an email about being overdrawn.
They logged into their account, expecting to see a balance of $1000, but instead discovered that they had been charged $1400 a second time for the product. After a series of calls to the seller, Wells Fargo, eBay, and PayPal, with no one taking responsibility initially, PayPal finally admitted to charging them.
What happened was that Wells Fargo declined the first transaction due to insufficient funds in the account. So they got a refund and ordered through PayPal Credit. After it was all sorted, PayPal waited for another five days before rerunning the initial transaction. This time it went through because the balance was sufficient. Someone at PayPal realized the mistake and issued a refund, but two weeks after the said error, they had not gotten their money back. PayPal says they are not sure when they will get it, and even when the money is returned to their account, it will take several days before Wells Fargo can have it.
This story is about one individual. There are several others by different individuals, but the scariest 'horror stories about PayPal are probably against businesses. According to an individual who posted on the Reddit platform some years ago, PayPal almost ruined his life and business by restricting his business account, his account, and those of his wife and children for no reason. He didn't get an explanation and all his efforts to reach them were futile. He only got automated responses saying he could not appeal the limitation. It started with PayPal withholding 10% of the amount received every day (which was more than the daily profit) and paying back in a bit over 90 days. After that, they continued to increase the rolling reserve until they finally limited all his accounts without explanation.
Conclusion
There are thousands of horror stories about PayPal's handling of customers' funds, but there are also thousands of PayPal lovers. It is safe to say you only love PayPal until its activities affect you personally, like many others.
Author: Charlie Svensson
Charlie Svensson is a fast, engaging freelance writer that provides dissertation help. He is skilled in content writing and blogging. The favorite topics of his posts are education, social media, marketing, SEO, motivation blogging, and self-growth. Excellent adaptability of skills to reach diverse audiences.