I'm wondering – are summer schools the perfect way to introduce new people to the world of web development?
A course lasting a few weeks, enough to learn all the fundamentals and fall in love with the subject. And on top of that you'll have the chance to enjoy some unique experiences in a mix of exciting cultures and environments.
Search by country: Spain | Germany | UK | Czechia | Netherlands | France | USA
What are some top summer schools to learn HTML, CSS and JavaScript?
There are many summer schools offering courses in HTML, CSS and JavaScript, but I want to narrow it down to find the best.
Not only should a summer school provide good academic tuition, it should also give you the chance to have fun. You should enjoy extracurricular activities, go on exciting trips and explore a new city, and maybe even a new country.
So, I've done some research, and found eight top summer schools that provide students with both a fantastic course with high quality tuition, covering HTML, CSS and JavaScript, and also a great cultural experience.
All of the schools I've selected do their teaching in English and there is a great range of locations, prices and course lengths on offer, so anyone can find a school to suit their needs. Let's dive right in.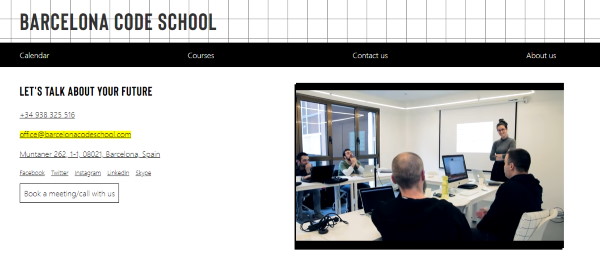 Spain
The Barcelona Code School offers a range of courses on app and web development.
For kids aged 9-18, BCS offer a 3-week summer coding bootcamp and for adults there are a number of courses, largely aimed at JavaScript, that range between 1 and 9 weeks in length.
At BCS, they teach in small groups of 4-8, with 2 instructors per class, so you'll always receive the help and attention you need to succeed. Some BCS courses do need prior coding knowledge. However, they will supply pre-course material for any students who need it.
On a BCS course, you will get the chance to develop a really strong level of understanding of HTML, CSS and JavaScript. They also boast an outstanding graduate hiring rate, with 100% of successful graduates going on to be hired within the next 1-3 months.
Unfortunately BCS does not offer accommodation, which some may see as a key aspect of the summer school experience. You will however, be living in one of Europe's most visually stunning cities.
Home to eight UNESCO world heritage sites and one of the world's best beaches, Barcelona is top tourist destination and a fantastic place to spend the summer.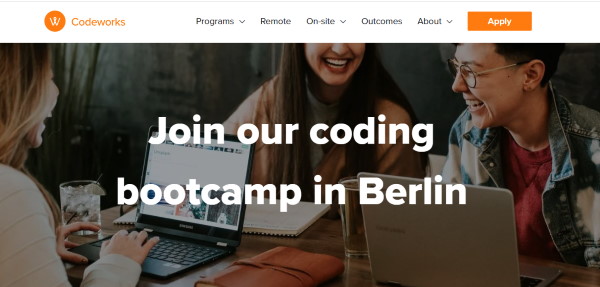 Germany
Berlin is the fastest growing tech hub in Europe. And with Codeworks Berlin you'll have get the opportunity to become a part of that.
Codeworks Berlin offers an extremely in-depth 8-week Web Development Immersive course that will set up beginners with an advanced understanding of JavaScript. This course does require a little bit of prior knowledge but if you're starting from zero, they will supply some material to help you catch up.
Again, there is no on-site accommodation, but they will help students to find a comfortable and convenient room near to the campus.
At €6,500, this course is definitely pricey, but if you're looking for a career in web development, it's perfect for you. Codeworks has a 100% hiring rate for successful graduates within 6 months of completing the programme. They also offer job interview training and hiring support.
On top of all that you'll be studying in Berlin, a city with a fascinating history, full to the brim with sites and activities. You're certainly not going to feel bored during your 8-week stay here.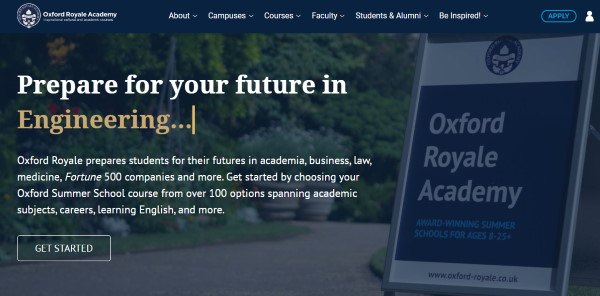 United Kingdom
Oxford Royale Academy is one of the UK's most prestigious summer schools. They have campuses based in some of the most renowned universities in the country, at Oxford, Cambridge, St Andrews and Imperial College.
Oxford Royale Academy offers 2-week courses in app and web development, aimed at complete beginners. These courses are designed so that students can build their own iOS app and website from zero knowledge. These courses are the perfect way to spark a passion for coding and development.
The hands-on approach at Oxford Royale Academy is perfect for students of all age groups, with courses available to anyone over 12.
You'll get to experience authentic student life. Living, dining and studying in top university halls, this summer school is ideal for international students looking for a taste of student life at a world-class university.
Whilst more expensive than other summer schools, Oxford Royale Academy offers a unique environment for learning, and inspirational cultural opportunities. You'll enjoy Oxford-style talks and debates from world-class speakers in stunning locations.
Just 2 weeks at Oxford Royale Academy can be life changing.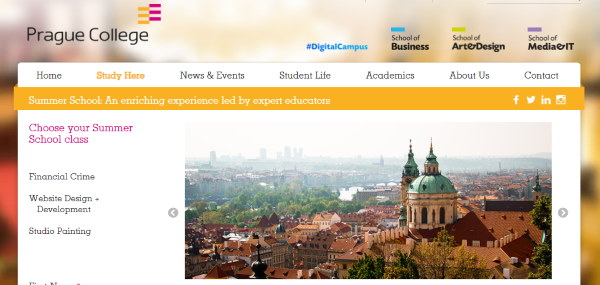 Czechia
Prague College Summer School offers students the chance to get immersed in an exciting new subject, whilst studying in one of Europe's most aesthetic cities.
The Website Design & Development course they offer covers HTML, CSS and JavaScript. You'll learn all the fundamentals required for a beginner web developer.
They take a very practical approach to tuition, with students completing tutorials in coding and web design. Students will also become familiar with using UI and wireframing.
Prague itself is a magical location, packed with beautiful architecture and stunning views. A city full of life and culture, this is a wonderful place for students to spend their summer, studying and having fun.
With a cost of 12,000 CZK (approx. $515), this summer school comes in at the cheaper end and, with living costs in Prague also relatively cheap, is very suitable for students on a tighter budget.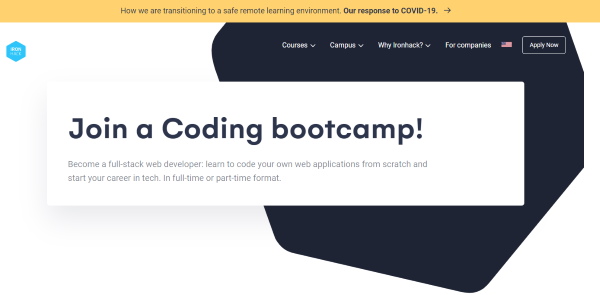 Netherlands
Amsterdam is one of Europe's most successful business hubs. And set in the heart of the city is Ironhack Amsterdam.
Similarly to Le Wagon, Ironhack take more of a bootcamp style approach to their courses. Their web development course is 9 weeks long and offers impressive coverage of both front-end and back-end development.
Where Ironhack Amsterdam succeeds over Le Wagon is in the 'summer school feel'. Their stunning campus on the Prinsengracht gives wonderful views of Amsterdam's famous canals.
Located at the centre of this bustling city, Ironhack offers students an inspirational cultural experience and the chance to visit some of the many famous sites the city has to offer.
France
Le Wagon offers bootcamp style courses in web development and data science. Although based in France, Le Wagon actually has campuses across the globe, from Dubai, to Rio, to Montreal.
Le Wagon's 9-week Web Development course is one of the most comprehensive and detailed courses available. It doesn't just cover the basics, but gives you enough material to start your career in development.
The experience at Le Wagon is unique. Their focus on project style assignments and tuition gives students plenty of practice at working alongside other developers and designers, a really key skill in the workplace.
Le Wagon will help you build up a rich portfolio, perfect for future job interviews. You'll also receive guidance on how to start your own career post bootcamp.
Whilst Le Wagon doesn't offer the classic summer school experience, it does offer very in-depth courses that will kickstart your career. For anyone certain they wish to take up the web development career path, this is a fantastic opportunity.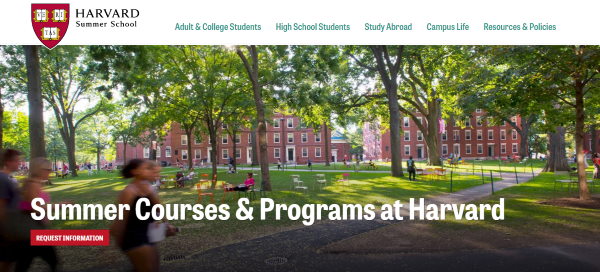 USA
Harvard University needs no introduction. It's of the world's most famous educational institutions, and the top ranked Ivy-League school. Harvard also have a prestigious summer school. There they offer courses for high school and university students, as well as adults.
For HTML, CSS and JavaScript you'll want their Fundamentals of Website Development course. A 7-week summer course offering a comprehensive overview of website development.
Students will have the chance to design and build their own interactive website on a topic of their choosing. This will then be presented as your final project for the course.
This is a chance to build a passion for web development in an outstanding academic environment. With some of the finest teaching any summer school has to offer, you can get inspired in a world-renowned institution.
Harvard Summer School also offers exciting extracurricular activities, with lots of athletics, sports and music for students to partake in. On top of that, students can travel into the city of Boston to enjoy some of the many cultural sites the city has to offer.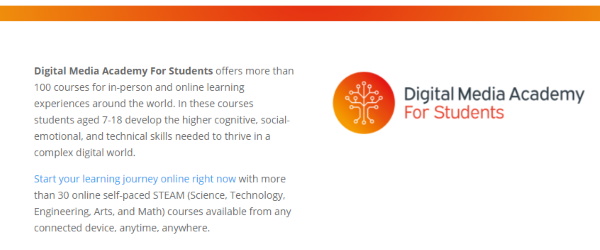 USA
Based on the campus of Stanford University in California, Digital Media Academy offers students aged 7-18 the chance to complete some fantastic computer science and tech summer courses.
For students aged 12-18, they offer the course, Mobile App Development with React. This not only focuses on app development but also teaches the fundamentals of HTML, CSS and JavaScript.
This course has a focus on students creating their own apps, for iOS or Android. Once you're familiar with UI, responsive design and using React, you'll be given a project to design and build an app of your choice.
Founded and research-backed by Stanford University in Silicon valley, this summer school at based in the heart of global technology. Close by are the headquarters of Apple, Google and Facebook. What better place to spark your own interest in tech?
Digital Media Academy gives students the perfect opportunity to develop their interests and find the career path that is right for them.