There are a number of tools that you can use to get your website online. Many of these tools require that you have some technical expertise. This includes an understanding of HTML, CSS, and other coding languages.
There are many people who want to build a website but do not have these skills. For them, using a website builder is the easiest option. A website builder is perfect for a person who has a basic understanding of how technology works. If you are able to put a video up on Facebook or post photos on Instagram, then you have the basic tools needed to use a website builder.
The question is, will you need website hosting with a website builder? What is the difference between them?
What Is a Website Builder?
A website builder is an all-in-one software that makes it easy for you to build your website quickly. A website builder will often use drag and drop editors so that you can build beautiful pages without needing to know how to code.
Although a website builder sounds like it's very basic, when you use a good website builder coupled with imagination, you can create a professional looking site that is optimized for use on mobile devices, has a user-friendly interface, works well with social media, can be used for e-commerce, and seamlessly updates to keep up with web security.
If you are looking to create your very first site, a website builder is an easy and low stress option. It allows you to hit the ground running.
A website builder may be perfect for you if you meet the following criteria:
You want a website to launch quickly
You do not have the technical skills needed to design a website from scratch and don't have the time or the desire to learn
You are not interested in learningcontent management systems like WordPress
The idea of building a website for the first time feels intimidating
You prefer to let someone else do site updates
You have a limited budget for your site
Something that you will notice when using a good website builder is that it will come with templates that you can use for your small business website, your e-commerce store, your blog, or other businesses. The goal is to get your site up and running quickly.
Website builders have pros and cons. Some of the pros that we have mentioned include speed, price, and ease. However, a website builder may not be the best option for you if you are looking for a website that includes:
Extremely complicated or customized code and functions
A customized theme and a template
The use of dedicated servers
If you feel like you need any of these elements for your site, it is better to learn to use a CMS like WordPress or hire someone to design your site. However, for most first time site owners a website builder will get the job done.
When you use a website builder, you will need to have a domain name. If you don't have one, most website builders can help you with that. A number of website builders come with a complete package, including a domain name and hosting. From there you have to familiarize yourself with the use of the website builder and choose whether you want to use one of their templates to get started or if you would prefer using the drag-and-drop method to create your own site.
The site builder vertical will continue to grow offering better services for small businesses looking to forgo expensive design fees and build their own sites. Over ½ of all businesses say that web design costs are the main obstacle in not launching a digital storefront. The 30 billion dollar a year site builder market has stepped up to help SMBs achieve this goal more effectively.
What Is Web Hosting?
Web hosting is what allows you to put your website or web page on the Internet. A web host is a company that provides a server and the other technologies needed for other people to view your web page on the Internet. Your website will be stored on a specially designed computer called a server. When you do research on the subject, you will see that there are a number of hosting options available.
Poor hosting and uptime performance has been shown to decrease sales by up to 31%. In a hosting speed test conducted by Hosting Data, ecommerce stores that used unoptimized shared hosting with <95% uptime had a double digit loss in sales revenue.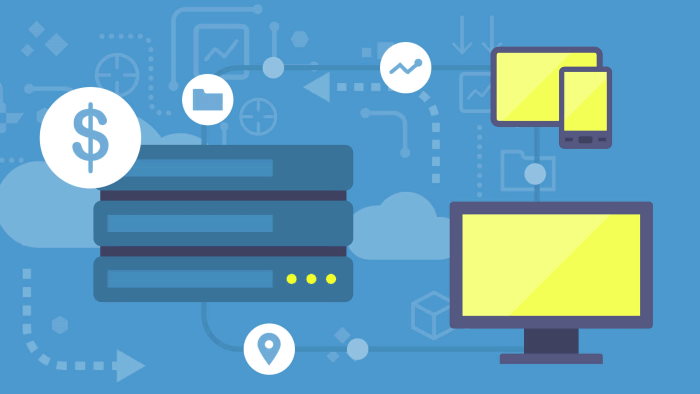 When a person is on the Internet and they want to see your website, they type in the website address or domain name. Their computer connects to the server where your website is stored and then the information you have placed on your site is visible to them through their web browser.
The web hosting service provider that you use is responsible for maintaining the server where your data is stored. They maintain the hardware that is used to connect your website to the Internet. The type of hosting you choose will determine how much control you have over the configuration of the server, how much storage space you have available for your site, and the speed with which others can connect to your site.
In addition to making it possible for others to view your site, web hosting services keep your site running smoothly and keep your site visible to others. A good web hosting site should promise 99.9 percent uptime, meaning that for the vast majority of the year your website will be accessible.
Having a good web host is essential, especially if you are building an e-commerce website. If your e-commerce website is not consistently available to clients, you may lose sales and may lose customers because they will opt to visit an e-commerce site that is available and that responds quickly. Once a visitor decides not to use your site, they may never come back.
Web hosting packages include a variety of disc space, monthly data transfer sizes, and security services.
Website Builder Versus Web Hosting
Web hosting and website builders can go hand-in-hand. Some website builders offer hosting as part of their package. This means that in addition to providing you with the tools that are needed to build your site, they offer you a place to store your site and a means to distribute your site to others.
Other website builders may not automatically offer hosting. They may give you the option of selecting what company you will host your website with. It is good to do your due diligence and research the hosting options available. The last thing that you want is to build a beautiful site but have no one see it because your hosting option is not reliable.