Go to Warrior Forum to learn from the best internet marketers.
The website contains not only the forum on the home page but it also has a Blog section where users can create their own blog sections about blogging, seo, ppc, article marketing. They have more than 5000 followers on FaceBook and they have an affiliate program where people can earn money.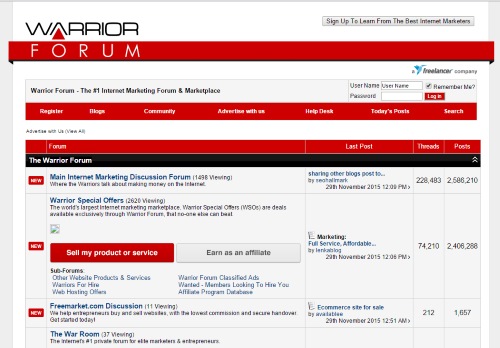 WarriorForum contains entries for the following tags:
work, work from home, link building results, home business, make money online, affiliate programs, make money, video marketing, marketing, online, home, cpa, email marketing, entrepreneur, affiliate program, mobe, money, alexander skyheart, facebook marketing, fba, ecommerce, opportunities, cpa marketing, traffic generation, seo, link building, facebook, internet, internet marketing, amazon, social media, blog, john di lemme, youtube, affiliate, affiliate marketing, plr, ppc, programs, sales, searchengineoptimization, ads, website traffic, repricing, success coaching, make, blogging, adsense, social media marketing, article marketing, articles, online business, online marketing, writing, business, content creation, content marketing, success, solo, list, list building, 2015, wordpress, success strategy, traffic, repricer, seo service, small business, motivation, twitter.
The most important topics on their forum are:
Copywriting – Arm yourself with the power to move people with words and you'll need little else to make money any time and anywhere you choose.
Warrior Special Offers – The world's largest Internet marketing marketplace. Warrior Special Offers (WSOs) are deals available exclusively through Warrior Forum, that no-one else can beat.
The War Room – The Internet's #1 private forum for elite marketers & entrepreneurs.
Internet Marketing Product Reviews & Ratings – This section is for members to give intelligent reviews of products and services.
Offline Marketing – Offline Marketing strategies, techniques and ideas.
Pay Per Click/Search Engine Marketing (PPC/SEM) – Pay Per Click and Search Engine Marketing discussion. This include Google Adwords, Bing Ads, Yahoo Advertising and more…
Website Design – Discussion forum for all things about web design.
Conversion Rate Optimization – Convert traffic into customers. Conversion Optimization, landing page optimization, A/B testing, funnel optimization and multivariate content experiments.
Main Internet Marketing Discussion Forum – Where the Warriors talk about making money on the Internet.
Growth Hacking – The modern way of doing marketing blending analytics, statistics into marketing techniques. Airbnb, Uber, Paypal, Hotmail and Groupon are all examples of Internet companies that used growth hacking to get big fast.
Discussions on how to build sites that sell physical products. Wholesaling and drop shipping sources.
Articles – Articles on all topics related to Internet Marketing
Warrior Ask Me Anything (WAMA) – The world's best Internet marketers and entrepreneurs conduct live streaming sessions here where they reveal their secrets to Warriors for making millions.
Programming – All things programming; python, php, ruby, C, etc.
Mobile Marketing – Effective marketing techniques and strategies for mobile products & services.
eCommerce Sites, Wholesaling & Drop Shipping
Ad Networks (CPM/CPL, Display, SEM) – Marketing through online advertising networks and search engines. Cost per click, cost per lead etc.
Social Media – Techniques to market effectively through mass distribution platforms like Facebook, Twitter, Pinterest and Google+.
Freemarket.com Discussion – We help entrepreneurs buy and sell websites, with the lowest commission and secure handover. Get started today!
Member Contests & Challenges – Contest and challenges run by Warrior Forum members.
Email Marketing – Email marketing, building distribution lists, maximizing open & click through rates, email deliverability, autoresponders, transactional emails, email triggers.
Search Engine Optimization – Techniques and strategies for effective on-page and off-page SEO to make you rank #1 in the search engines.
Mind Warriors – All topics related to self-improvement. Power, energy and creativity translates into being able to make more money.
Go to warriorforum.com for more.