Hey, guys, what's up? How is your summer? The thing is, that we've got a new must-have in a web development world! If you want to pump up your skills or just need a hassle-free website template for your business, you definitely need to get to know with today's top 5 HTML templates with visual editor.
In fact, modern web development industry grows up day by day. For this reason, we have a plenty of innovations on a daily basis: they stream, they beat each other, and they really impress us by making the website building process easy, comfortable, and joyful. Small wonder, that tons of people worldwide choose ready-made solutions for building sites. They are simple and allow you to create a website with no professional skills required.
Being a huge fan of all webdev updates, I noticed that more and more people prefer purchasing ready-made HTML templates for their projects. These goods allow you to enjoy a huge space to unwind because of theirs flexible skeleton and a big variety of customization options. Of course, you might say that there is nothing better than a professional web development agency. Actually, I won't say that you're wrong. It's just up to you what way to choose.
Basically, webmasters can easily create a turnkey website for you without driving you nuts. So, you get a good-looking project in time and effortlessly. The only thing that might confuse you is the price of this kind of service. However, if money does not play a role for you, take a close look at this Web Studios Catalog. This is a collection of verified and certified web developers who are always ready to help you with your project. Moreover, you can find a perfect agency by means of your location there.
In case, you prefer the whole independence, you easily can build your site using premium website templates with visual editor. As a matter of fact, a visual editor is a very useful tool on the web. Fortunately or unfortunately, a regular website building allows you code. So, if you are truly unfamiliar with coding, you won't make a good site. Meanwhile, an innovative visual editor allows you to customize your future website in a visual mode. Feel free to add images, videos, edit all the text, whatever, without touching a line of a code. This tool turns a scaring website building into a real piece of cake.
If you need a reliable and solid place of high-quality website templates, I would recommend you stopping an eye at TemplateMonster. These guys have a pretty nice collection of flexible, high-productive, and ultra-functional HTML5 templates with visual editor for every taste. By the way, I would like to present you some of them, so, you could make the best choice. So, here we go!
Brave Theme – Multifunctional Responsive Website Template
Brave Theme is a powerful multipurpose HTML website template that boasts a Novi Builder in the core. Therefore, you can create stunning layouts of any complexity with no coding skills required. Here you get over 100 ready-made HTML pages, tons of pre-made elements and blocks, 11 ready-to-use niche page layouts, extensive blog layouts, a rich number of eCommerce layouts, and more, just here in one template! To say more, Brave Theme allows you to enjoy a plenty of working forms, a rich UI kit, working social feeds, and a caring 24/7 support! This Brave Theme is a good-looking template that allows you to boost any kind of business effortlessly, whether you're a newbie or an advanced user. Be brave with this outstanding multifunctional website template!
Landscape Architects Responsive Website Template
Need a picturesque template to take your lawn & garden business online? Meet this ultra-responsive and retina-ready landscape design website template in all its glory! It is pre-loaded with a truly beautiful clean design that will help your visitors to stay focused on the full range of your services. Choose from multiple home layouts & demos, enjoy a powerful Bootstrap Toolkit, an advanced UI kit, and a plenty of free updates. Moreover, this template comes with a valid semantic code, a well-faceted documentation, and a lifetime 24/7 support, therefore, you can get started working on your website on the fly.
Mental Health Responsive Website Template
This fully responsive and well-documented psychologist website template has everything to help you create a professional-looking website for your clinic. Being fully cross browser compatible, it comes with a wide range of ready-made HTML pages. So, you can add all necessary details about your clinic to make your website look far more reliable for your visitors. Moreover, this multipage website template is pre-loaded with a rich UI kit, hence, you can spice up all the info with multiple types of content. Here you can add the schedule of your psychologists and clients' feedback about your services. Moreover, a neat working contact form will help your clients to get in touch with you in a matter of few clicks.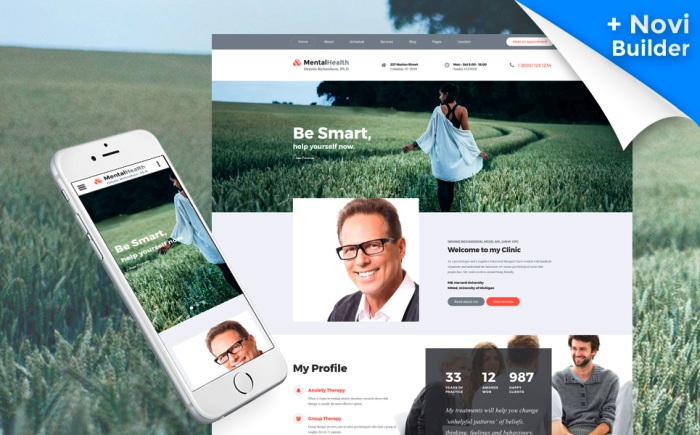 Constructo – Construction Company Responsive Website Template
Looking for the coolest template for your construction company website? Try Constructo! This is an extremely responsive architecture website template that boasts a fully responsive design. Therefore, your visitors will enjoy a great performance of your future website on PCs, smartphones, and tablets as well. Moreover, being truly clean, this template allows clients to stay focused on your services without driving you nuts! A powerful Novi Builder in the core, allows you to enrich your future site with professional-looking layouts of any complexity. Meanwhile, a number of ready-made HTML pages and a variety of UI elements will help you to show up your building company in little things. Versatile blog layouts and a wide range of header & footer styles provides you with a huge space to unwind while creating a unique look of your website. Constructo is your key to the leadership in building industry!
Inspire – Designer Portfolio Responsive Website Template
Inspire is a multipage website template that is pre-loaded with a huge set of features to help you create a captivating and profitable web designer portfolio. Over 25 ready-made HTML pages allow you to showcase your activity in little things; meanwhile, a wide range of UI elements will help you to highlight all the details with all types of content. Being fully responsive, it comes with 4 blog layouts; therefore, you can easily create a unique look for your portfolio website. Inspire also comes with working contact and newsletter subscription forms, W3C valid and well commented semantic code, a high-quality images, a friendly and solid 24/7 support, and lots of other premium features. Meet a powerful website building in action with this web designer CV website template!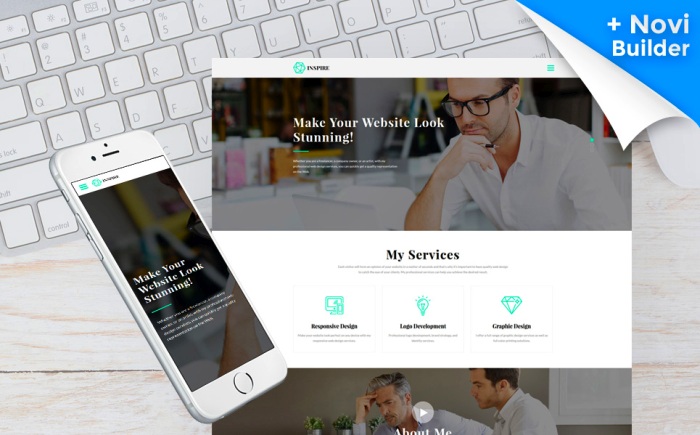 As you can see, these HTML templates with visual editor allow you to create powerful sites with ease! Moreover, here you get a full freedom of choice when customizing them the way you like. Visual editor is your direct way to a simple & enjoyable website building. So, if you need a reliable HTML template to work with, you definitely know what to choose.